Combined machine – series WE AM
Browse through the series. Click on the detail views for more information.
Detail views
Detail views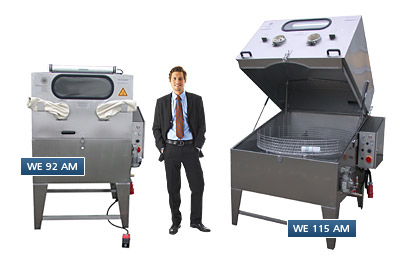 The series WE AM as combined machine for automatic and manual cleaning is a modified version of the standard series W/K. The machines have been developed especially for the use in the repair area and for the processing, pre- and post-treatment of highly complicated parts geometries.
The AM-version is available from machine size 60 on.
Cleaning machines of the series WE AM are equipped with the following additional components on base of the serial machines:
cover with window, lighting and gauntlets
pump with hand pistol ca. 3 – 6 bar with high litre output (e. g. for pressure rinsing of oil channels and oil pipes in crankshafts or motor blocks)
washing brush, medium flooded
compressed air blow off pistol
high pressure pistol with connection for an external high pressure aggregate (additional water input into the washing bath)
optional: high pressure pump 100/160 bar for removal of persistent dirt
(e. g. oil coal)

Because of the manual use and the corresponding EU-norms the loading heights of the single machine types increases.
To suit the working height of the machine to the ergonomical differences of the operators the machine can be equipped with an extensible step. On request also an electrohydraulical lifting table (for the operator or the machine) available.
The cleaning machines of this series can be operated in the warm/watery
area (series W) or in an special version also with cold cleaning agents/solvents
(series K) or with an indirect heating for the use of a mixture of 20 % hydrocarbon and 80 % water.