Basic program - series W
Browse through the series. Click on the detail views for more information.
Detail views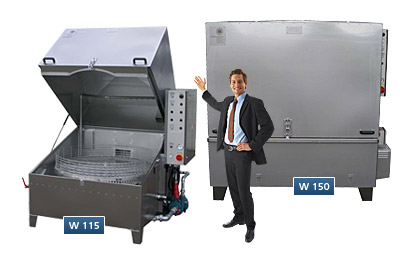 Detail views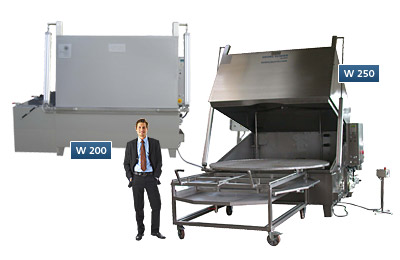 The cleaning machines of the series W with a basket diameter from 400 to
3,000 mm are for the use on watery base with bath heating (elecrical direct or indirect by heat exchanger, gas or oil on request).
The applications of the machines are
cleaning of different materials
repair
production of new parts
chip removal etc.
and were mainly carried out warm/watery/alcaline.
The used cleaning medium consists of water at addition of a cleaning agent in a concentration of 1 up to 5 %, where there will be worked with acid (phosphating) as well as alkaline products.
Beside the machine technique the used washing medium is decisive for the washing quality - we advise you with pleasure.
From basket diameter 900 mm on the machine body is cut inclined – so an optimal loading height is available. Thereby the machines can be equipped with an extractable basket and a trolley on request. This makes a loading at a any places of the factory possible, if necessary also with several baskets and trolleys. By the loading by charge a high throughput will be achieved.
Also a crane loading with heavy washing goods is safe, de-central and simple possible.
Self-evidently we also produce roller or bar tracks.
The cleaning machines from type W 200 on are equipped with a power operated cover opening in standard.
The cleaning machines of this series can be operated in the warm/watery
area (series W) or in an special version also with cold cleaning agents/solvents
(series K) or with an indirect heating for the use of a mixture of 20 % hydrocarbon and 80 % water.